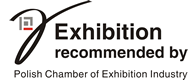 FIT-EXPO 2017







06.03.2017
Participation in the competition for the Gold Medal of MTP provides a wide scope of benefits, and winning such a prestigious trophy results in an image and economic effect. Feel invited to submit your applications!
07.02.2017
Positive, full of business talks, passion and all the time on the move. Over three days the FIT-EXPO Fair 2017 will be by industry professionals such as owners of gyms, fitness clubs, sports centers, instructors and fitness coaches as well as physically-active individuals.
16.12.2016
We kindly invite you to visit Poznań International Fair! Here you will find business contacts, novelties and the chance to develop your passions. In the latest issue of Poznan Fair Magazine "Exhibition calendar 2017" we present trade fair events, organized by the International Fair for almost all industries.
More news
---

Next edition: 13-14.05.2017