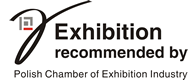 FIT-EXPO 2017







04.05.2017
What companies are already with us? Check the news!
06.03.2017
Participation in the competition for the Gold Medal of MTP provides a wide scope of benefits, and winning such a prestigious trophy results in an image and economic effect. Feel invited to submit your applications!
07.02.2017
Positive, full of business talks, passion and all the time on the move. Over three days the FIT-EXPO Fair 2017 will be by industry professionals such as owners of gyms, fitness clubs, sports centers, instructors and fitness coaches as well as physically-active individuals.
More news
---

Next edition: 13-14.05.2017