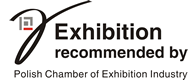 30.10.2017
We are presenting you with the latest interactive issue of Poznań Fair Magazine "Calendar of trade fair in 2018". It is absolutely unique publication onto polish market! We invite you to click!
30.10.2017
Probably you know that Polish fitness market is most dynamic in Europe…
21.06.2017
The 12th edition of the Fitness & Sport Park fair FIT-EXPO 2017, which took place at the Poznań International Fair, 12-14 May, came to its end.
More news
---

Next edition: 25-27.05.2018
Facts about FIT-EXPO 2017:
FIT-EXPO 2017 was visited by fitness club managers and owners, people looking to invest in the sector and representatives of hotels, recreation centers and SPAs. Additionally, Poland's largest fitness event was participated in by fitness coaches and instructors as well as people who are a little crazy about healthy and active lifestyle. FIT-EXPO was participated in by 6,630 people, which is similar to the last year's edition. It must be highlighted here that this year more space was occupied by the exposition and workout areas.
There were 17 zones at FIT-EXPO altogether: 2 exposition halls, 1 zone devoted to the Trends and Innovations Congress, 13 zones devoted to the International Fitness Convention EU4YA powered by Tiguar including expositions by fitness schools and a separate zone for the POLE SPORT competition (open on Sunday only). The Trends and Innovations Congress was the fair's cherry on top of the cake. 240 people came to get some knowledge and talk to specialists. There were well-known people among the speakers who took two days to educate the sector. The number of participants of the International Fitness Convention EU4YA powered by Tiguar was comparable to the 2016 edition. They were searching for new trends regarding personal trainings, group trainings, dietary topics and many others. These included people professionally connected with the sector and people who go to work out in fitness clubs and are thinking of getting involved in the sector. read more>>